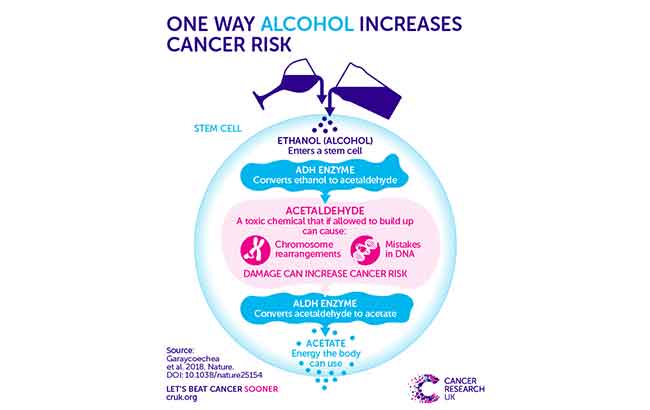 The Spirits Business‏ @spiritsbusiness 27m27 minutes ago
Scientists have found alcohol can increase the risk of cancer by snapping DNA http://ow.ly/x7eU30hzLVb 
A new study by the Medical Research Council Laboratory of Molecular Biology at Cambridge University in the UK, commissioned by Cancer Research UK, discovered that when the body processes alcohol it producers a chemical called acetaldehyde, which is harmful to DNA.
The researchers found that acetaldehyde snaps the DNA of stem cells – a type of cell that supplies the many different specialised cells our bodies are made of – which can eventually lead to cell mutations.
To analyse the effect acetaldehyde might cause to stem cells' DNA, the scientists looked at mice cells that didn't have acetaldehyde dehydrogenases (ALDH) enzymes, which stop acetaldehyde building up by converting it to acetate, which cells use as a source of energy.
They gave the mice diluted ethanol, the purest form of alcohol, and used techniques to see the DNA inside the cells and read its code.
Professor Ketan Patel, who lead the team of researchers, said: "We saw huge amounts of DNA damage in these cells. Bits of DNA were deleted, bits were broken and we even saw parts of chromosomes being moved about and rearranged.
"Our work definitely shows that external factors, like drinking alcohol, can damage DNA in blood stem cells, meaning it could also damage DNA in other types of stem cells.
"While we didn't look at whether these mice got cancer or not, previous studies have shown that the type of DNA damage we saw in these mice can considerably increase the risk of cancer."
As a result, Cancer Research UK urged consumers to reduce their alcohol intake. Cancer is linked to seven types of cancer: liver, breast, bowel, upper throat, mouth, oesophageal and larynx.